Turn-key compliance training has never looked

brighter.
Say goodbye to confusion and embrace a seamlessly integrated training experience that allows you to keep up with the ever-changing rules, regulations and requirements that come with compliance training.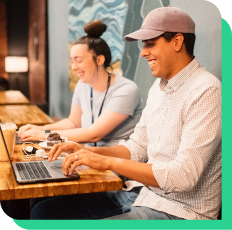 Enlightened Training for Small Businesses
Navigating the labyrinth of compliance training can often feel like stumbling through the dark. ComplyBright Employee & Employer Compliance Training was designed to illuminate your path to success.
ComplyBright is more than just compliance training. With ComplyBright, you are investing in your company's future, creating a safer work environment, and increasing productivity overall.

Completion Certificates
Spotlight your achievements with official certifications upon successful completion of training.

Real-Time Notifications & Reminders
No more stumbling in the dark – receive timely alerts to keep you on track.

Live Tech Support
A guiding light to help you through any compliance-related challenges you encounter.
Unlock a Diverse Library of Compliance Courses
ComplyBright's training management platform provides engaging, informative, and relevant courses to ensure you meet your compliance requirements without the hassle!
We've created a curriculum to ensure your employees are up to date with all state & industry mandated requirements. Our on-demand, video-based training courses address sensitive topics through real world case studies to ensure compliance needs are met, while tactfully instructing on sensitive situations.
Your subscription unlocks training courses covering everything from Diversity and Inclusion to HIPAA Awareness to Sexual Harassment Prevention.
Check out our diverse library of compliance courses:
Emergency Preparedness & Response
Sexual Harassment Prevention
Sexual Harassment Prevention - CA Employees
Sexual Harassment Prevention - CA Supervisors
Sexual Harassment Prevention - New York
Sexual Harassment Prevention - New York City
Sexual Harassment Prevention - Illinois
Illinois Restaurants & Bars
Set It & Forget It With Real-Time Notifications & Reminders
Never miss another deadline!
ComplyBright provides completion certifications and real-time progress notifications to ensure your staff is up to date, and to provide you transparency while tracking your staff's progress through training initiatives. Our auto-renewal reminders will notify you when certifications are set to expire, so that you can schedule all the relevant training your staff needs.