Sexual Harassment Prevention Training for

Syracuse
ComplyBright's turnkey sexual harassment prevention training for New York meets the latest training requirements to help protect you and your small business.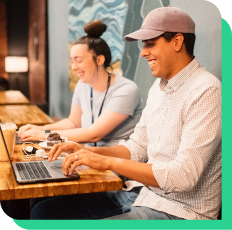 Seamless compliance training to safeguard your business
We've created a curriculum to ensure your employees are up to date with all state and industry mandated requirements. Our on-demand, video-based training courses address sensitive topics through real world case studies to ensure compliance needs are met, while tactfully instructing on sensitive situations.
New York Sexual Harassment Prevention
New York City Sexual Harassment Prevention Law (supplement)
Complete your training by October 9th!
Create a Safer Work Environment & Increase Productivity
ComplyBright is more than just compliance training. With our platform, you're investing in training and compliance management that will create a safer work environment and increase productivity overall.
ComplyBright Employee And Employer Compliance Training provides a turnkey training program to complete your mandatory sexual harassment prevention training, as well as real-time notifications and reminders to keep you and your employees compliant year after year.

Create a safer work environment
Help your staff feel safe and empowered through proper training.

Increase Productivity
Proper training can help reduce employee turnover, keep employees engaged and increase productivity overall.

Avoid financial and legal penalties
Not only is compliance training the right thing to do, it's required.
Under New York State law, harassment does not need to be "severe or pervasive" to be unlawful.
Learn more with ComplyBright's state-compliant sexual harassment prevention training.
Still in the Dark on New York State Regulations? 
Navigating the labyrinth of compliance training can often feel like stumbling through the dark.
Download our free state requirements reference sheet to learn more about New York Sexual Harassment Prevention Training requirements.